JDE Menu Studio
The easiest way to upgrade and manage JD Edwards® EnterpriseOne® menus and tasks.
Cross-release selective upgrade of old style OneWorld menus to new style EnterpriseOne tasks, identifying and cleaning up orphan leaves and branches, editing tree structure or leaf properties - the sky is the limit with this powerful tool.
Current version: 1.0
Product Brief
More Details
System Requirements
Licensing
Users normally access JDE using its complicated menu structure, which becomes the very first puzzle the users have to solve. Many approaches exist in trying to make this first hurdle easier for the users, but implementing any such strategy in "vanilla" JDE is a painful manual process of editing grids after grids of data, one byte at a time.

The number of tasks available in JDE is huge. And so this tool is solving this inherent complexity by providing a convenient and intuitive GUI that allows to do any such editing as easy as possible.

Simplifying menu management leaves menu designers free to design and security administrators free to administer security, saving everyone a lot of time, minimizing associated risks, much effort and of course reducing cost of ownership.

Simply put, it's an absolute must-have for all sites still using JDE menus!


Attach & detach branches of tasks. Check for duplicates. Compare task structures between Environments. Cleanup orphans. Easy drag&drop and copy&paste operations. Export to XML. A complete upgrade, analysis, editing and management system for anything related to JDE menus: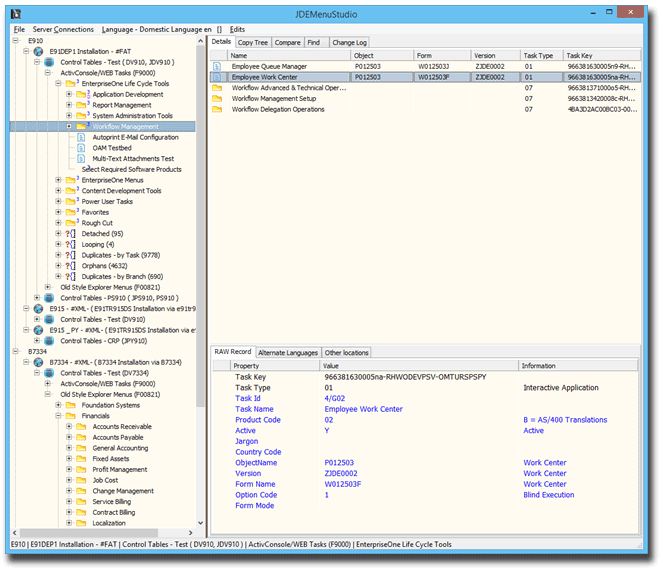 JDE Release support starts with XE for reading old style menus.
A free trial version of this software is available - please, contact us.
OS: MS Windows (x32 or x64)
OS Versions: from 7 and up
OS Editions: Workstation or Server, excluding Home Edition
CPU: Intel or AMD (x32 or x64)
System Type: Physical or Virtual
JDE Releases: XE (B7333), ERP8 (B7334), B9 (E1 8.9), E810, E811 (including E811 SP1), E812, E900, E910, E920
JDE Tools Releases (pre-Unicode): SP16 onwards inclusive
JDE Tools Releases (Unicode): TR891 - TR921 inclusive
JDE Backend Hardware Platforms: hardware-independent - all platforms supported by JDE are supported
JDE Backend Database Platforms: DB-independent - all platforms supported by JDE are supported

This sofware is licensed "Per Windows User & Computer Combination".