UO Publisher
Publish User Overrides to users easily - by name
User Overrides are becoming more important for all JDE users, especially in the latest releases of JDE where this functionality has been greatly enhanced. Take advantage of this great feature easily now!
Current version: 1.0
Product Brief
More Details
System Requirements
Licensing
UO's are great in JDE and are becoming more and more powerful.

Unfortunately standard JDE makes working with UO's difficult: the names assigned to UO's are not exposed in the standard JDE applications and so there's no easy way to see what it is exactly you are publishing to the users.

For example, a Power User may have created half a dozen different formats and given them names, but when they run P98950 program and try to publish just one of them, they cannot find it: the names are not shown, only the User, Form & Version names are.

This tool makes this easy, enabling sites to take advantage of this great functionality, because now the publisher can see all the different UO names and cherry-pick only those they want.

Easy to use interface, powerful functionality: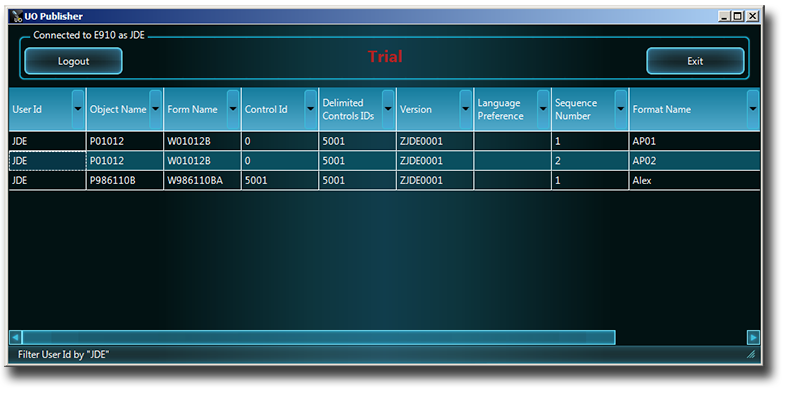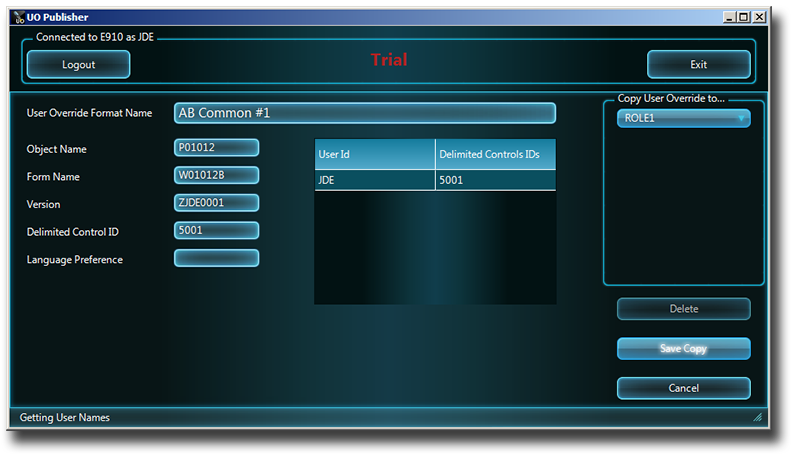 Try the downloadable version for free, see the Download button above.
OS: MS Windows - Any Version/Edition
CPU: Any Intel or AMD CPU
JDE Releases: E812 through to E910, inclusive, are supported
Client Machine Software Requirements: requires a pre-existing functional JDE Fat/Development Client installation (including any necessary DB connectivity clients)
Client Machine Hardware Requirements: no special requirements

The tool will automatically start a free trial for a limited time. The full license can be purchased using the interfaces provided by the tool itself. The License is device- & user-bound, for multiple devices and/or users you will need to acquire multiple licenses. You will need to have a direct internet connection every time you are running this tool. Software updates can be applied at no additional cost for any minor version updates (i.e.: per major release number) and will need to be re-purchased for any major version update.